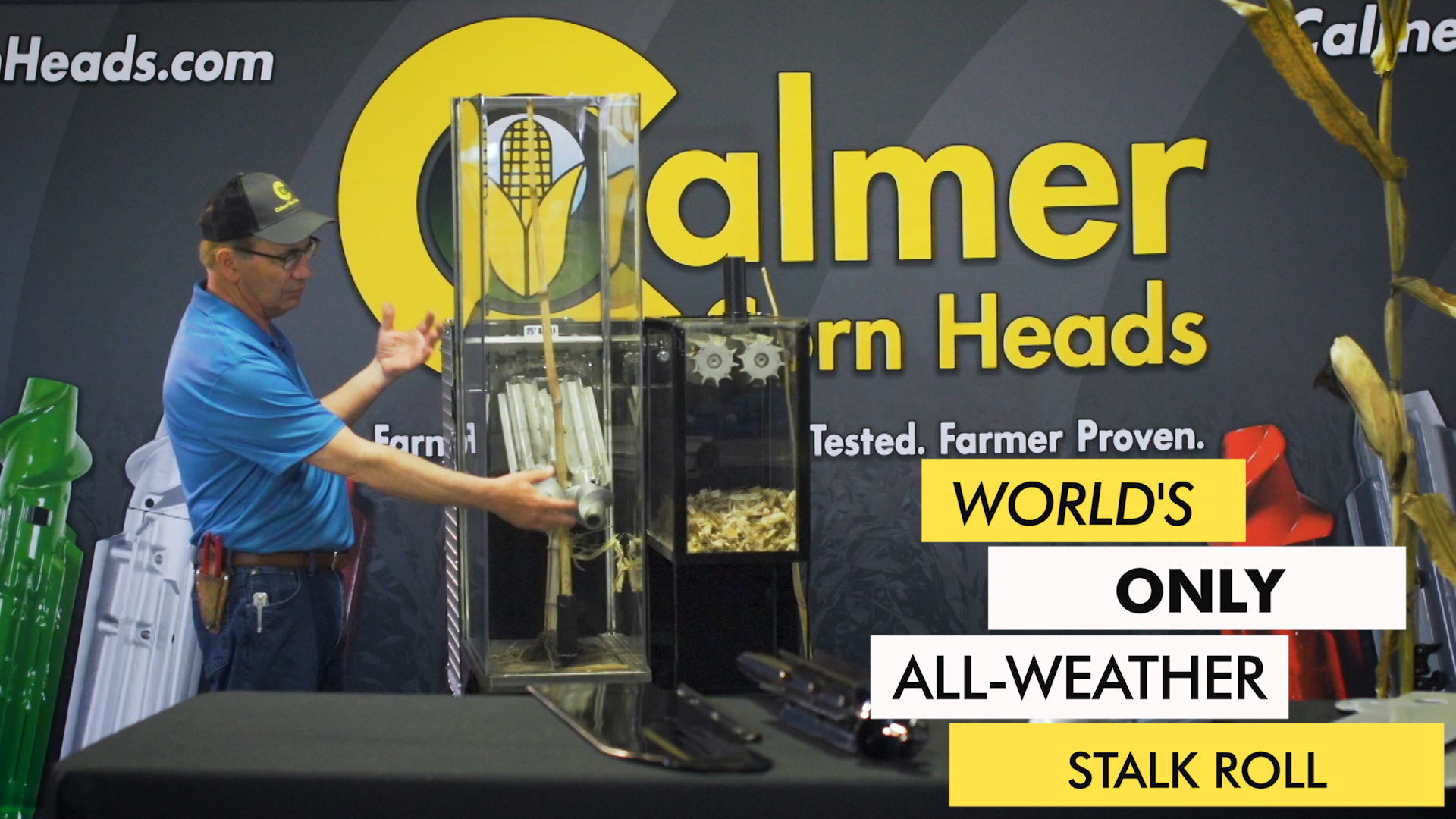 Calmer Corn Heads manufactures and designs various models and aftermarket fittings for combine harvesting of corn.  Their annual sales push needed explanation videos demonstrating the function, talking through the benefits and providing a detailed multimedia experience to educate buyers on the system for each combine make and model.
We produced just over 90 minutes of video content for publication on Youtube and Facebook and for embed in their core product pages.  The marketing effort led by marketing manager Nick Bustos timed the release of these informational pieces with the national campaign of 100k direct mail pieces, sponsored 30 second spots on youtube, and sponsored posts on Facebook. Each individual video relates to the make and model specific parts and aftermarket tuning for an overall campaign production cost of approximately $50/min of finalized video.
Video Production Details:
on set filming = 2 days
post production editing = 40 hours
title editing and pacing = 80 hours
visual design for communication without audio track
subtitle editing for viewing in high noise environments
Agribusiness Video Production Illinois
machinery operation
drone aerial video
interview & field reports
machinery operation

failure point video evidence
fixed camera installation
engineering analysis
Agriculture Market Engagement
The yearly variables of the agricultural process are ripe for market engagement through video.  The market is seeking timely advice & thought leadership!
Your expertise presented in video gives you a market edge in every season.  Contact Neil to produce your content and help you manage delivery and engagement.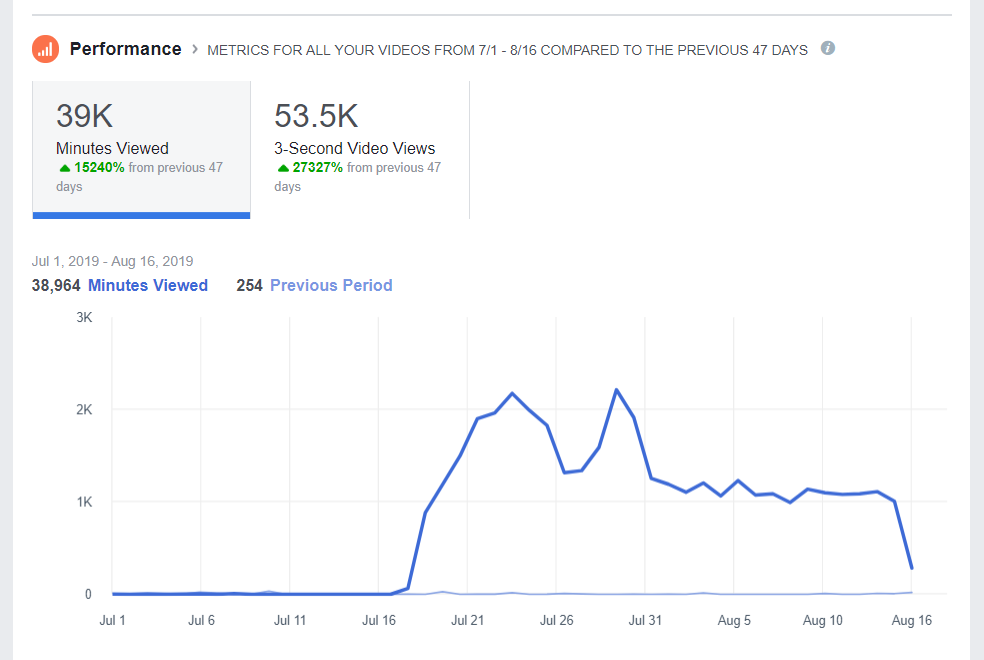 METRICS FOR ALL YOUR VIDEOS FROM 7/1 – 8/16
COMPARED TO THE PREVIOUS 47 DAYS
39K- Minutes Viewed
15240% from previous 47 days
Minutes Viewed – 53.5K
3-Second Video Views
27327% from previous 47 days
3-Second Video Views
Jul 1, 2019 – Aug 16, 2019
Video Assets Accru Value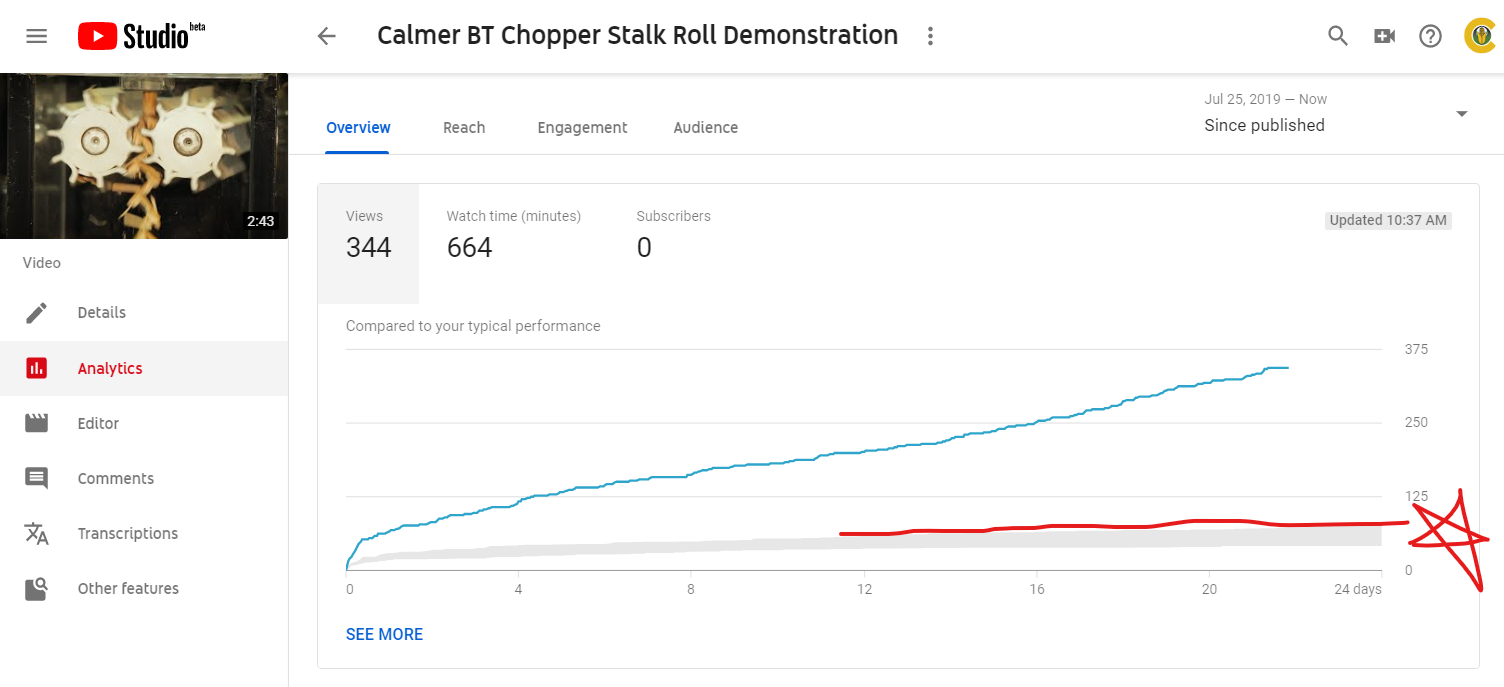 Youtube video asset accrual of value[/caption]
The 2019 informational campaign by Calmer was their first utilization of professional grade video production.  All their previous videos had great ideation, great storyline, but were cobbled together by general staff not equppped or experienced in the nuances of video production.
I hand-drew a red line to draw your attention to the difference in performace between their other video assets and the growth graph of this video.  This video will continue to accrue value over time – what other asset in your business does that?  The chopper demonstrated in this video represents the core 'unique selling point' and is patented across the world.  Isn't the investment in revealing it with beautiful slowmotion footage worth the investment?
What is Customer Engagement Worth?
The question we're all trying to define for long-term sales stability, or to report to the bean counters revolves around the amount of engagement it takes to close the necessary sales.  Each segment of buyers will have a different cost but this client is reaching a point of maturity with a broad spectrum of cost analysis that includes traditional methods like direct mail through new school methods of Facebook and YouTube video delivery.  Our current paid promotional budget is too new to share the results accurately, but a spend of $0.05 per new video view seems to be playing out across the market.
Production Cost Divided by Engagement
We've talked about about the ~$50/min cost of production.
The hard production costs divided by the engagement number's that's $0.05 per video view minute.  Where else can you get customer engagement at that cost?  And how can you pass up that opportunity?
opportunity cost > production cost in 2019
The real business fact of the marketplace in 2019 is that if  you're not engaging customers with video you're losing a low-cost opportunity.
Let me present a plan
Why is it that I'm confronted with business managers who balk at reasonable rates?  Why are sales professionals wasting time and resources on over- thinking the intended message as if their job depended on a perfect video production? The most salient out of the gate step is initiating engagement and then refining the messaging details.  Repeated messaging will be more effective than a single message because of the variety of mindsets and people you are reaching.
Call me at 708.669.9039